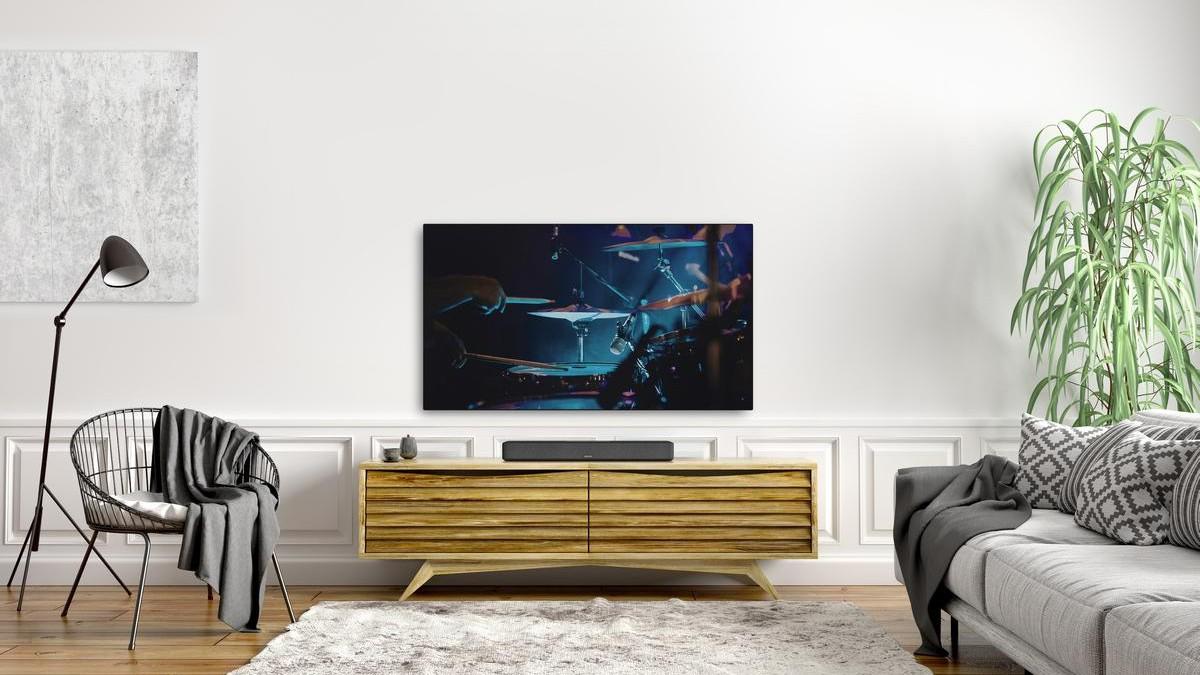 The Denon Home Sound Bar 550 packs a lot of features into its compact chassis, but how does it stand up to the competition?
The post Denon Home Sound Bar 550 Review - A Versatile Sonos Alternative first appeared on HomeTheaterReview and is written by Brian Kahn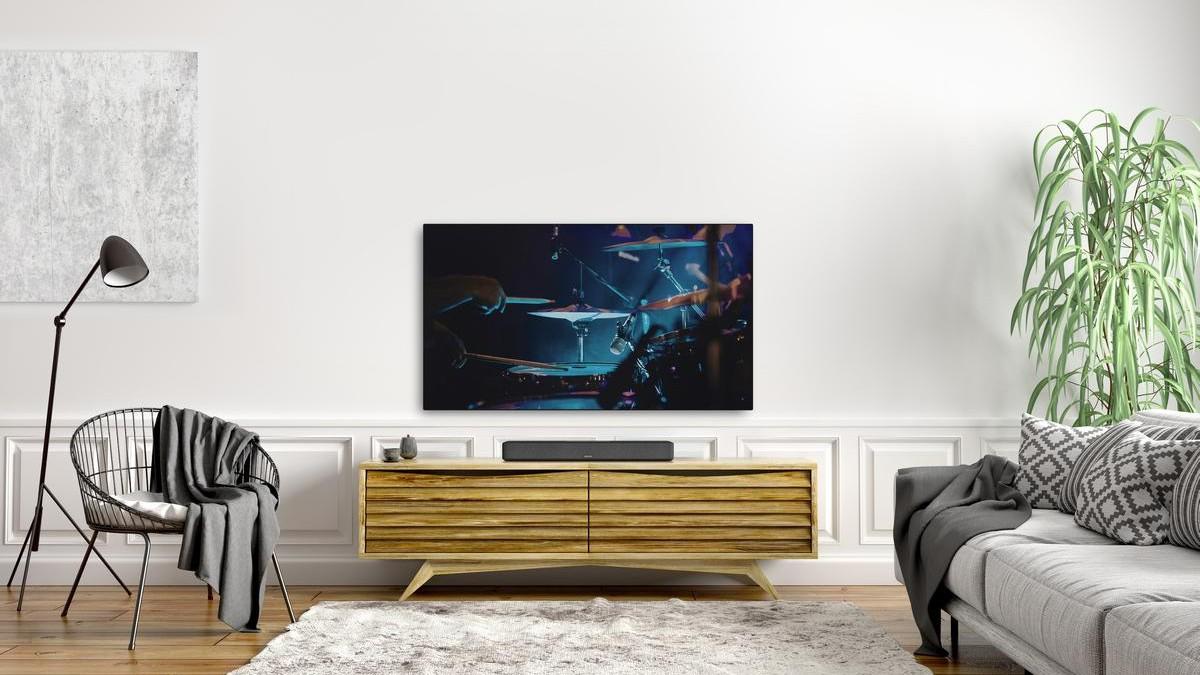 The Denon Home Sound Bar 550 ($650) is an attractive, smaller-sized soundbar that easily fits into most rooms. Despite the compact size the soundbar is feature rich and packed with a powerful digital signal processing (DSP) system. The integrated HEOS functionality also allows the 550 to act as part of a zoned music system in addition to its role as a television soundbar. We put the soundbar to the test, including checking out its virtual spatial audio skills, to see if it lives up to its relatively high price point.
High Points
Great connectivity options
Stylish and modern design
High-resolution music support
Good sound quality, especially with the optional subwoofer
Low Points
Can get harsh at louder volumes
Limited virtual spatial audio immersion
Design and features
The 550 shares its industrial design with the rest of the current Denon Home lineup, a dark gray cloth covering the front and sides, rounded corners, and a matte black exterior. A proximity-sensing touch panel on the top lights up when your hand approaches. Overall, the appearance is subtle, classy, and modern.
The Sound Bar measures approximately 26 inches wide, three inches tall and about 5 inches deep. The chassis appears to be mostly plastic but feels solid and weighs in at 7.3 pounds. The 550 comes with a small remote but I suspect you will end up using your television's remote and the HEOS App to control your 550. Under the hood are six active drivers and two passive radiators.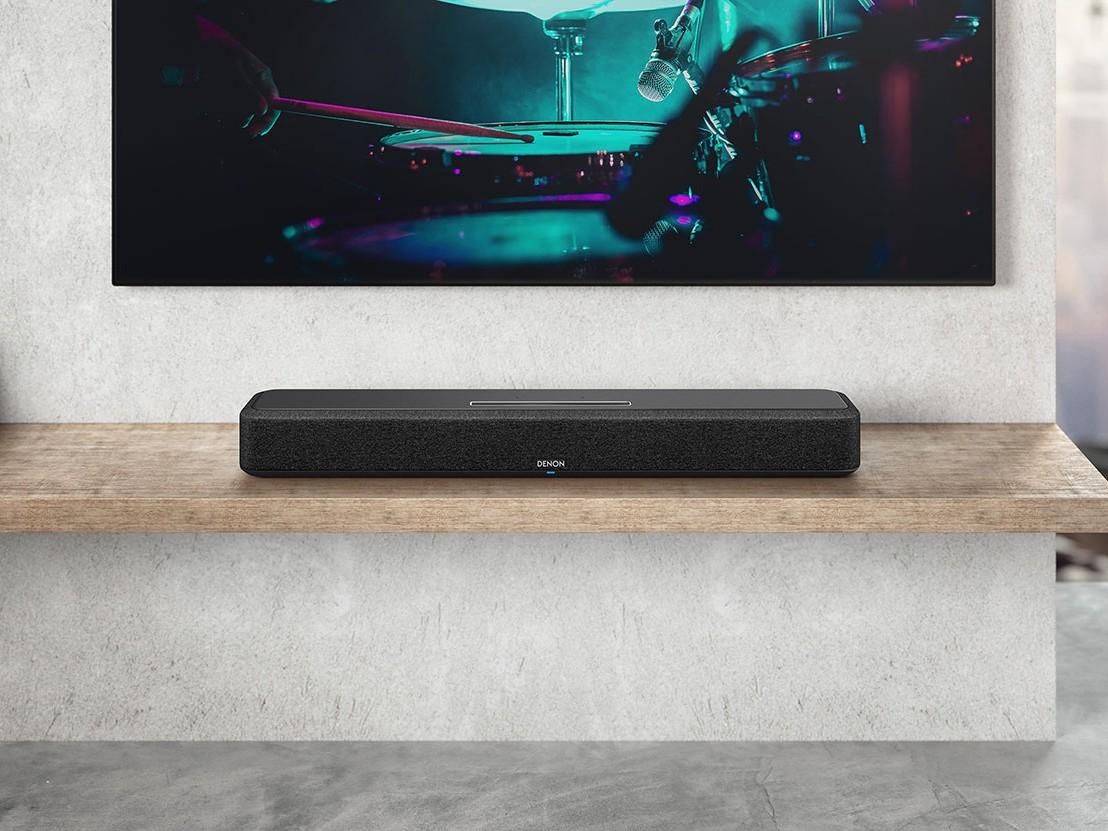 Denon packs a lot of features and technology in the 550's relatively compact chassis. Those Include Dolby Atmos, DTS:X, HEOS multi-room audio, and Amazon Alexa support via onboard microphones. The soundbar is also Roku TV Ready, meaning it is optimized to work with TVs powered by the Roku TV OS. Unlike the competing Sonos Beam (gen 2), the 550 offers two HDMI ports, one of which offers 4K/HDR video passthrough, and one with HDMI eARC for connection to your TV. Sonos' cheaper bar offers only one HDMI eARC port so you can't connect an external source device directly. The 550 also supports high-resolution audio up to 192kHz/24-bit FLAC, WAV, ALAC files, or 5.6MHz DSD audio files.
All the soundbar's speakers fire forward so any of the height channel sound effects for spatial audio formats like Dolby Atmos are handled virtually via a DSP engine. This means it won't be as immersive as soundbars with dedicated upfiring speakers.
If you are not familiar with HEOS, it's Denon's Sonos-like multi-room audio system that is incorporated in many new Denon and Marantz components as well as a line of Denon Home speakers. Most Denon Home speakers can be used alone or paired with an identical second speaker to form a stereo pair or connect multiple speakers throughout your home network.
The Denon Home Sound Bar 550 takes that a step further, able to connect with the Denon Home Subwoofer ($599) as well as a pair of Denon Home speakers which can be set up as rear channels, again, similar to Sonos. For this review, I used a pair of Denon Home 150 speakers ($249, each).
The subwoofer has an eight-inch, downward-firing woofer in a clean, black enclosure that measures approximately thirteen inches wide and deep and just over fourteen inches tall. The Denon Home 150 is the smallest speaker in the lineup with a 3.5-inch midrange driver and 1-inch tweeter in an enclosure that stands about 5 inches wide, 6 inches deep, and 8 inches high.
Setup and performance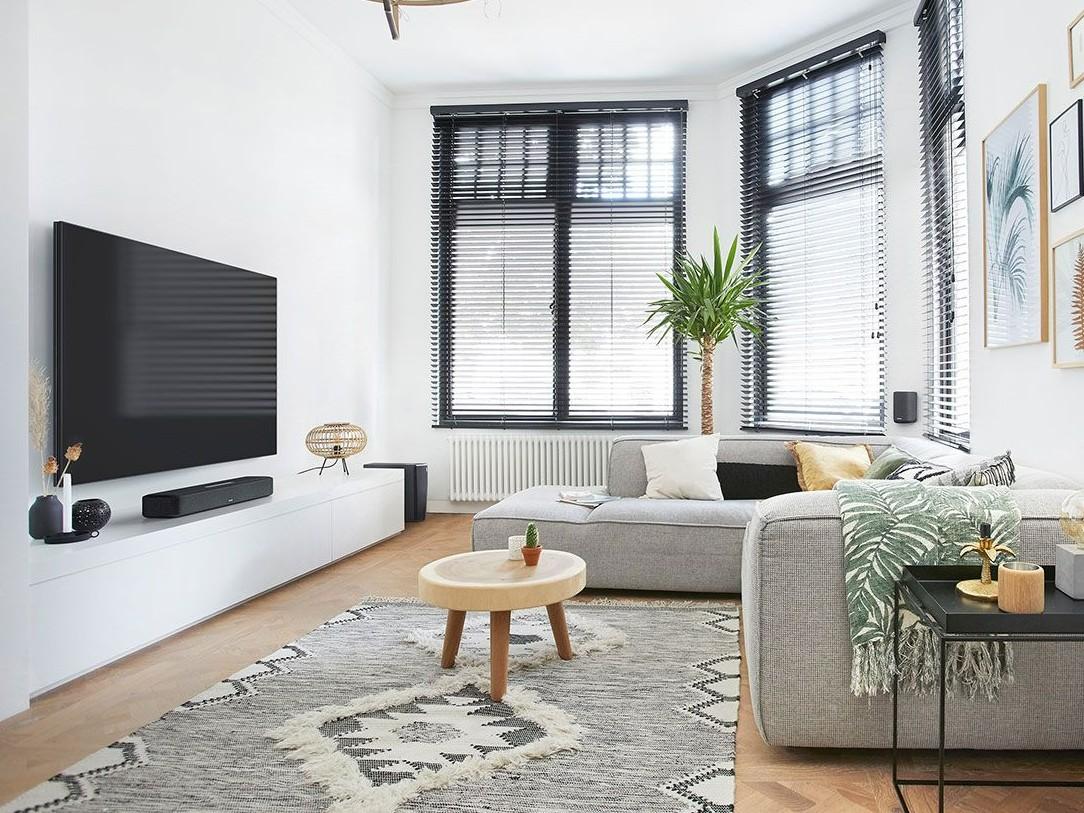 I connected the Denon Home Sound Bar 550 to my LG OLED via HDMI with eARC. There are also Toslink and analog 3.5mm inputs if needed, but only the HDMI connection will support Dolby Atmos content. Network connectivity is available via the Ethernet port or dual-band Wi-Fi.
At first, I did my listening with only the Denon Sound Bar 550 connected without the subwoofer or rear speakers. The Sound Bar 550 was great with the morning news or dialogue-intensive shows, especially with the dialogue enhancement mode set to low or medium. I found the high setting to be clear with dialogue but at the cost of making the overall tonal balance too mid-forward.
In addition to Dialogue Enhancer mode (off, low, medium, and high), there is a Night mode (on or off) and a Sound mode (Stereo, Pure, Dolby and DTS). There is an EQ setting that has adjustments for Bass and Treble. Watching "Wheelman" on Netflix, the dynamic Atmos soundtrack expanded horizontally much further than the 550's compact size would suggest. But as expected, it doesn't create the same sense of immersion as you'll get with more advanced bars that employ dedicated upfiring drivers, such as Vizio's cheaper M-series 5.1.2 soundbar.
Bass and dynamics were a bit limited, this was most noticeable as I increased the volume. When I got close to maximum volume the quality of the sound began to degrade and become harsh. Then again, there should be little reason for most folks to push the volume to those levels.
The subwoofer is modest in size, so it was not shaking the room, but when I added it to the system it reproduced enough bass to provide weight to the soundtrack to keep it engaging. I suspect adding the subwoofer engages a crossover in the 550 as having the subwoofer in the system increased dynamics and enabled the bar to play louder while maintaining its composure.
The next step was adding the Denon Home 150s for the rear channels. In watching the chase scene at the end of "Wheelman" the 150s did a good job reproducing the rear effects which created a much more enveloping sonic experience.
I also used the 550 and Denon Home Subwoofer combination to listen to music. With Laura Marling's "Only the Strong" from the album Song For Our Daughter (Qobuz, Chrysalis Records) the soundstage expanded slightly beyond the soundbar's physical boundaries, and the subwoofer provided enough oomph for the bass on the acoustic soundtrack to keep it balanced even at higher levels.
Kicking it up a notch with Dominique Fils-Aimé's "Rise" from the album nameless (Qobuz, Ensoul Records), the Denon Home 550 and subwoofer's soundstage opened up, especially front to back. It did a good job of reproducing the vocals but there was some thickening of the bass.
Lastly, the Eagle's "Hotel California" from the album of the same name (Tidal, Elektra) was reproduced with an even bigger soundstage. Closing my eyes, I could tell where the artists were placed relative to each other but not with the same solidity as I can with my free-standing speaker systems.
Competition and comparison
In looking through current offerings, there were a couple of options that were competitive. (See our Soundbars page for all the soundbars we have reviewed.)
The Sonos Beam Gen 2 ($449) would be the closest competitor. The Sonos also comes with Trueplay, which offers room connection for those with an iPhone (it's currently not available for Android). These soundbars are similar in size and both allow you to add speakers in a surround setup or for multi-room audio. Sonos also offers its larger and more capable Arc soundbar ($849) with upward-firing speakers.
If you're looking for more effective Dolby Atmos and DTS:X immersion, you could also look at the Vizio M-series 5.1.2 soundbar, which adds upfiring drivers and also comes with surround speakers and a subwoofer for a starting price of around $500. However, it does not offer the benefits of Wi-Fi streaming or the ability to add and connect multiple speakers throughout your home.
Conclusion
The key word in Denon Home Sound Bar 550 System is "system." The Denon Home 550 is incredibly flexible in that it can be used alone for a basic installation but can also 0be incorporated with surround speakers and/or a subwoofer, or as part of a whole-house audio system. The sound quality is good at lower and moderately loud volumes but you'll want to add the Denon Home Subwoofer if you want impactful bass response and higher volume playback.
The post Denon Home Sound Bar 550 Review - A Versatile Sonos Alternative first appeared on HomeTheaterReview and is written by Brian Kahn