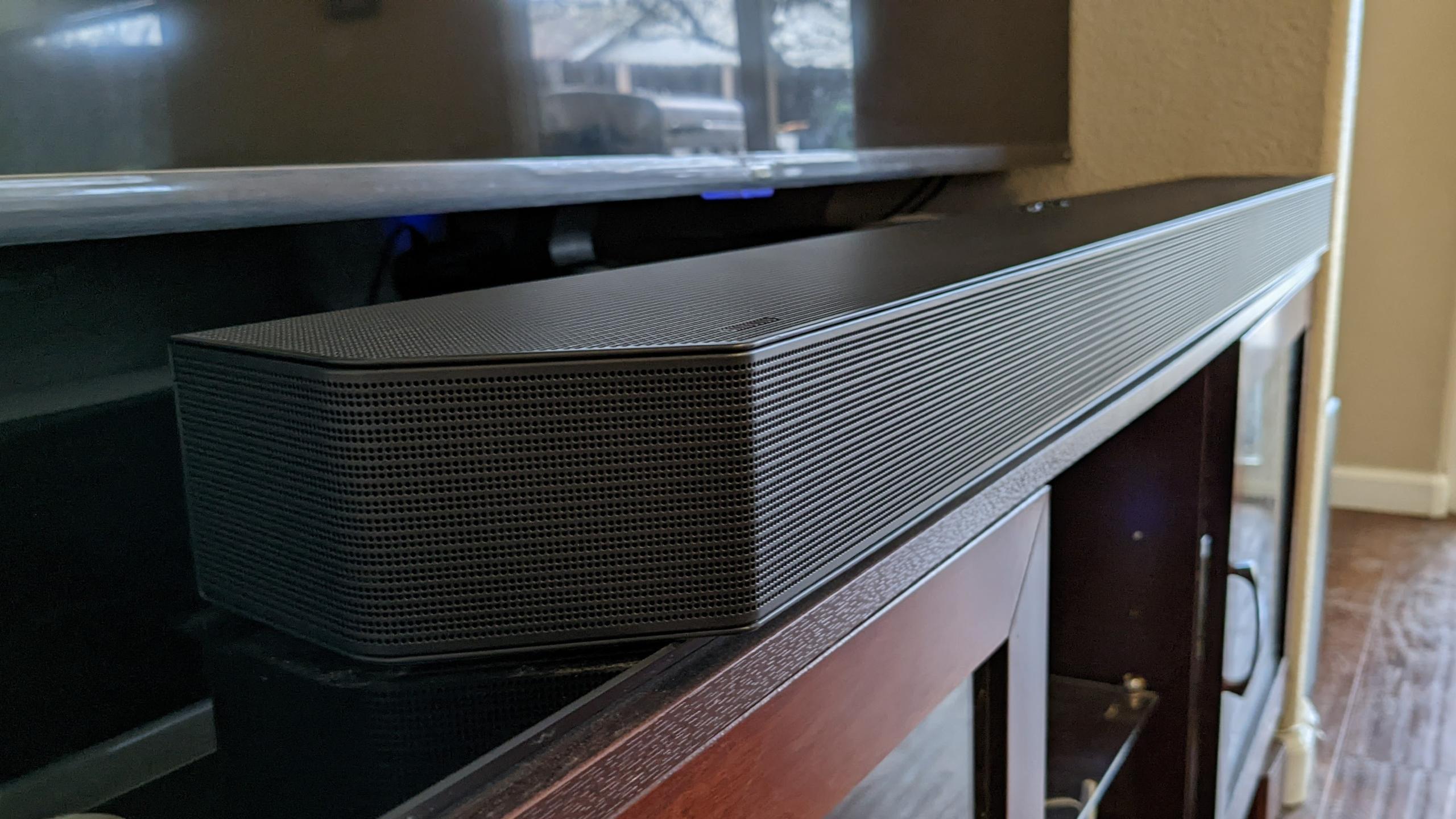 Samsung's latest flagship Soundbar is another Dolby Atmos powerhouse.
The post Samsung HW-Q990C Soundbar Review - Cinematic Spectacle first appeared on HomeTheaterReview and is written by Nick Woodard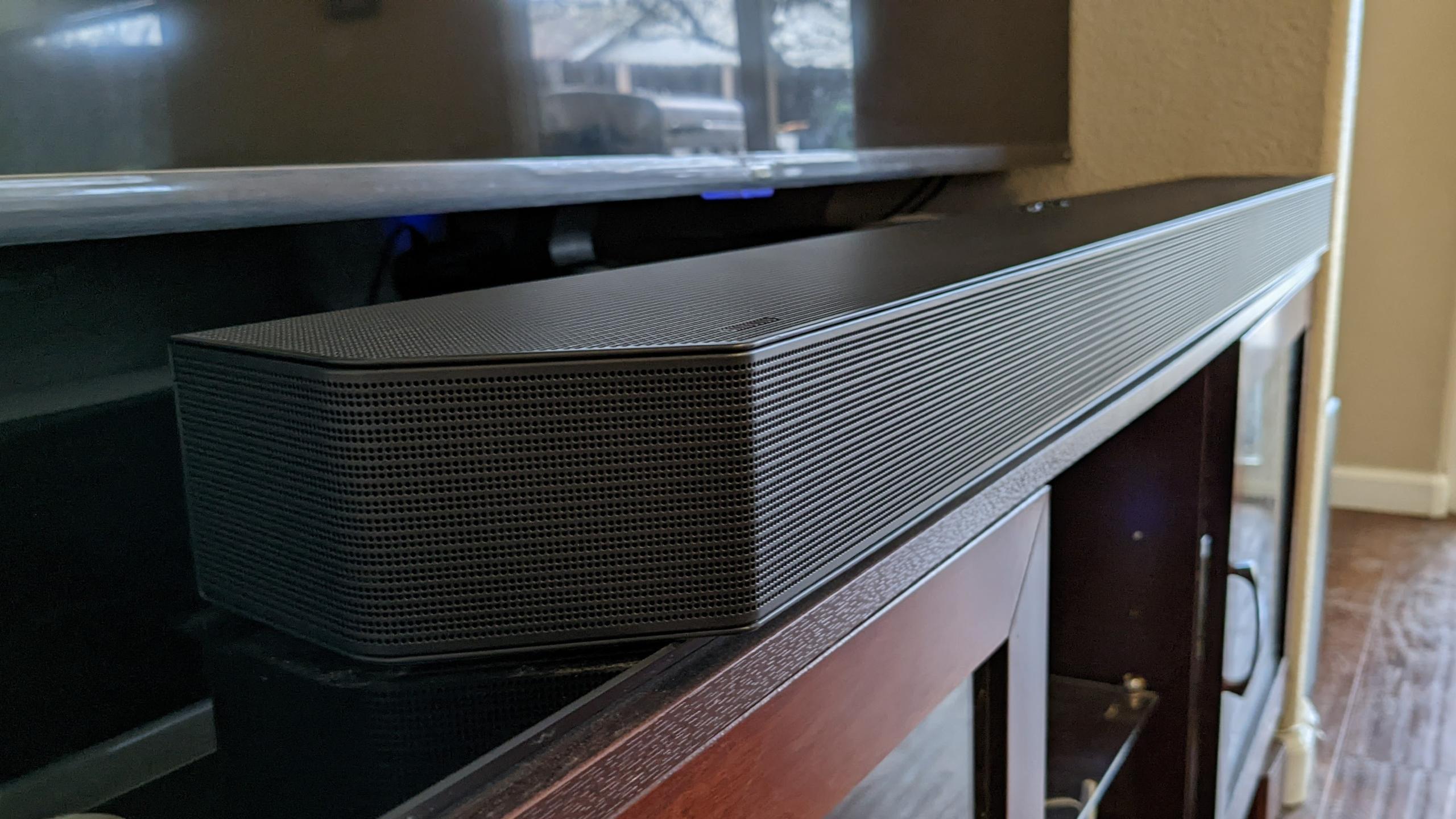 It's been years in the making, but Samsung seems to have whittled high-end Dolby Atmos soundbars down to a science. Create something that sounds breathtakingly powerful, make it easy enough for anyone to set up and use, and outfit it with every feature under the sun. Oh, and slap a larger-than-life price tag on it.
That equation has worked wonders for the brand thus far, and Samsung is hoping for more of the same from its new HW-Q990C Q-Series system. The soundbar is an 11.1.4-channel behemoth, with a total of 22 drivers dedicated to creating an otherworldly three-dimensional soundstage for your listening pleasure. There are a few small discrepancies to be dealt with, but the Q990C is every bit the Atmos powerhouse it was built to be.
High Points
Fantastic sound
Immersive Dolby Atmos
Tons of Features
Simple setup
Low Points
Rear speaker cables are too short
Small onboard display
Setup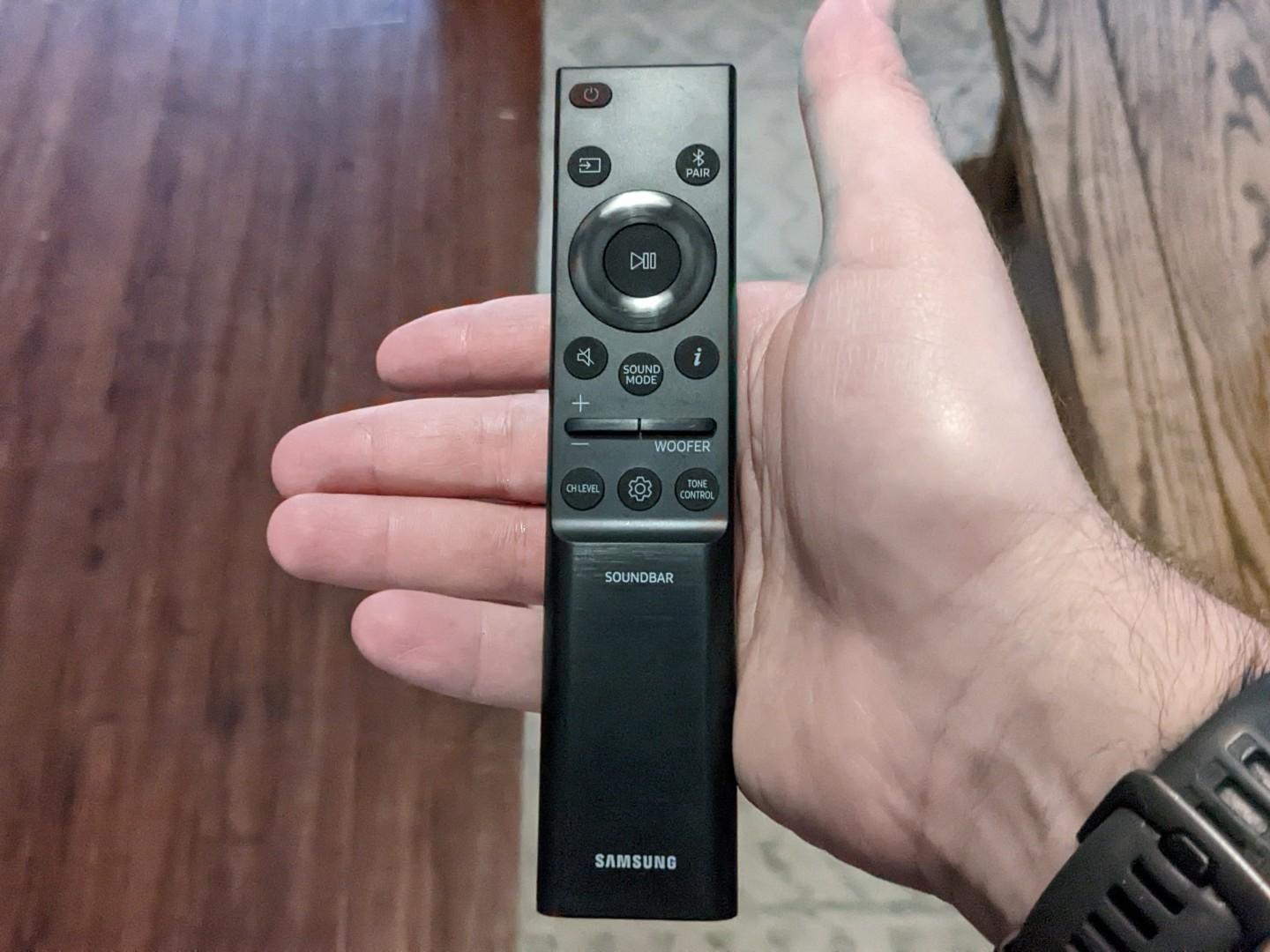 Despite being a high-end soundbar, the Q990C is pretty ordinary when it comes to setup, and that's a good thing. Each piece of the puzzle needs to be connected to power, and the soundbar itself needs to establish a connection to your TV. For most folks, that means plugging the included HDMI cable to the HDMI eARC (or ARC) port on both your display and the soundbar. If you have one of a select few newer Samsung TVs, however, you can pair the two over Wi-Fi and still achieve wireless Dolby Atmos and DTS:X, according to Samsung.
I don't have such a display, so I went the good ol' fashioned hardwired route. The only real hiccup was placing the system's rear speakers in their ideal positions in my living room. With roughly four feet of power cable to spare, Samsung puts a real limit on how far away these speakers can be from a power outlet, sometimes resulting in ill-advised placement. In most cases, you can find a way to make it work. But just be aware that wall outlets may be at a premium.
Finally, plan on downloading the SmartThings app and running the soundbar through that setup procedure. You absolutely don't have to in order to use the system — I was too giddy to start testing, so I went the first day without the app. Once you find out how easy it is to access and adjust settings with SmartThings, though, you'll wonder how you went without it.
Design and features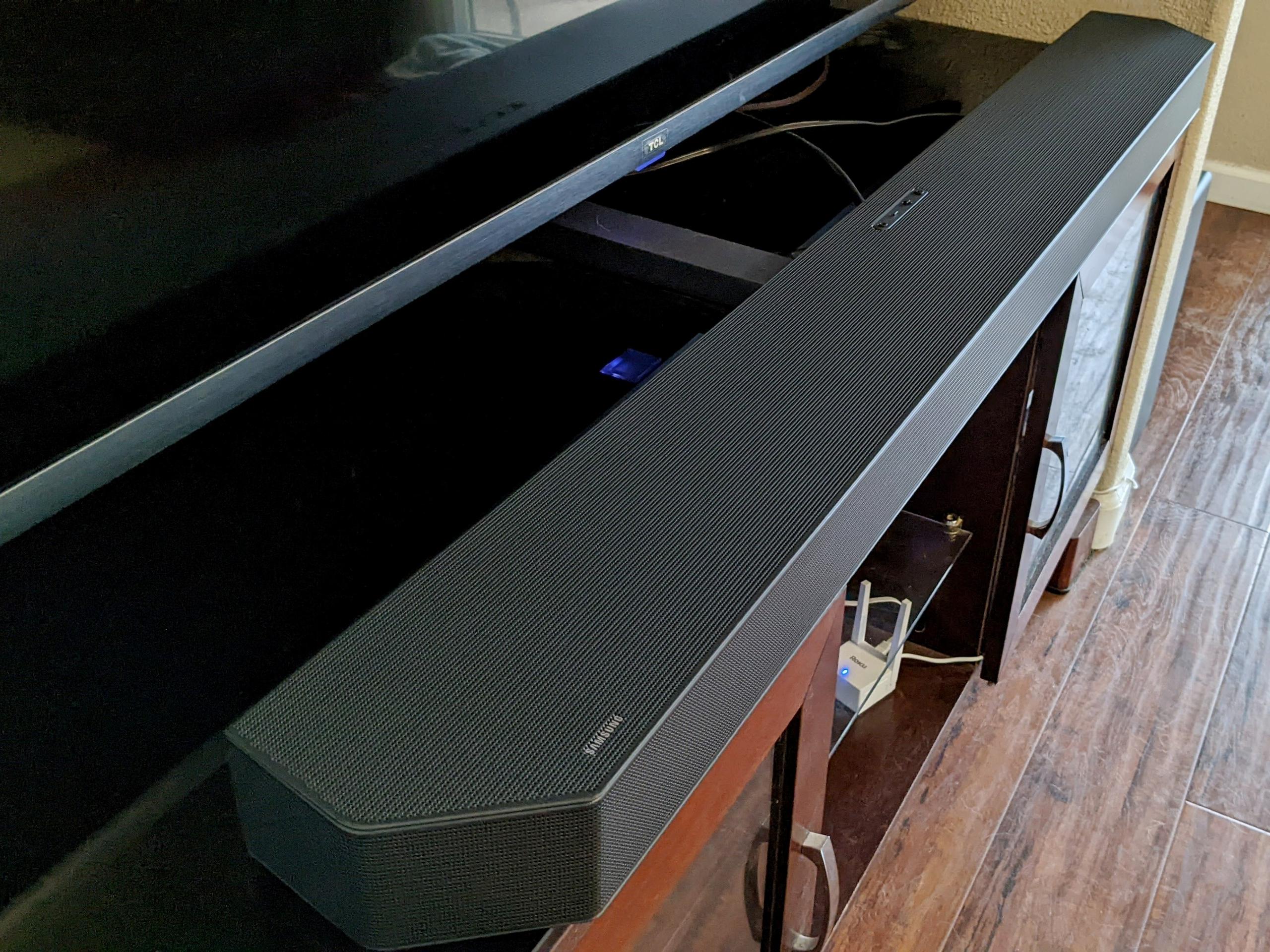 Weighing in at 62 pounds in total, the Q990C is a spectacle in every sense of the word. Each component sports a sleek black finish, with even the rear speakers resembling a high-end bookshelf speaker design as opposed to the plastic afterthought you'll find in many soundbars' rear speakers. Just make sure you clear some space on your TV stand and designate a spot for your subwoofer. These things are monsters, with the soundbar alone stretching over 48 inches across, and there's no hiding them, or blending them into the background of your living room aesthetic. They're going to stand out, and they're going to look sharp doing it.
The soundbar's display isn't nearly as sharp. Sitting about 8 feet from the bar itself, I found myself having to squint to make out what the diminutive digital display was rattling off as I tried to change the channel level or sound mode. For the most part, it's much easier to make significant updates in the SmartThings app and relegate the remote for simple adjustments like volume and subwoofer level (for which there is an included button).
Beneath the design of it all, the hardware of the Q990C is teeming with features. A number of them do require a Samsung TV, like Q-Symphony mode that utilizes both the soundbar's speakers and the drivers in your TV to generate its surround sound effect. The same goes for Game Mode Pro, which is meant to optimize directional sound to enhance your gaming experience, but is only compatible with 2023 Samsung TVs. Even the Tap Sound feature, which lets you begin playing music just by tapping your phone to the Q990C, requires you to own a Samsung phone with Android 8.1 or above.
The features that aren't gatekept by Samsung are solid, for what it's worth. The Active Voice Amplifier functionality, for instance, amplified dialogue exactly the way it was supposed to in order to enhance commentary-heavy documentaries and dramas. SpaceFit Sound Pro is also an intriguing feature, a toggle-able option in the SmartThings app that analyzes room reverberations across your space and customizes your sound accordingly.
Beyond that, the Q990C works seamlessly with everything from Apple AirPlay and Spotify Connect to Amazon Alexa. Plus, you can enable the Q990C as a SmartThings Hub to connect smart home devices like lighting, outlets, plugs, door locks, etc.
Performance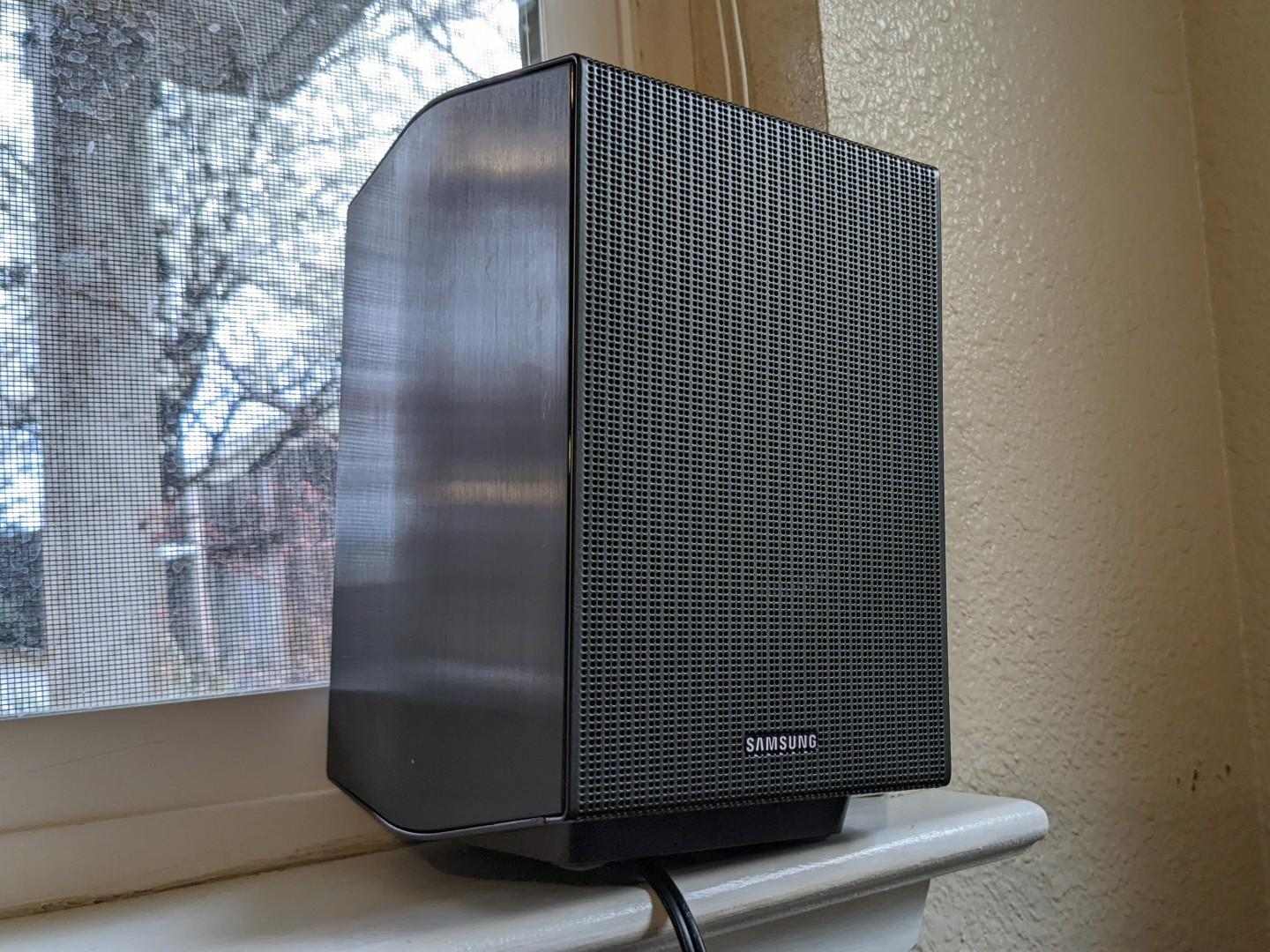 As easy as it is to set up and as jam-packed as it is with features, the real showstopper of the Q990C is its performance. My test unit arrived on a Wednesday, also known as Grogu day for those who follow the creed. I got everything connected just in time for the latest Mandalorian episode and was immediately rewarded for my efforts.
Shortly after the opening credits, my partner and I were completely immersed in a dogfight with TIE fighters, and the Q990C took us along for the ride. The rear speakers pulled tons of weight here, utilizing their up-firing and side-firing drivers to add masterful directional sound to the scene. At the risk of spoiling an intense sequence, we were essentially in the cockpit as Mando went vertical in his Naboo N-1 Starfighter, then took a complete nosedive to launch an assault on unsuspecting enemies. The word cinematic doesn't begin to describe how fulfilling, detailed and impactful the Q990C made this scene.
Over the weekend, we finally got around to watching Jurassic World: Dominion. The three-dimensional sound was exciting here as well, but what floored me the most was the depth and impact of the system's bass. I had to keep my finger on the volume trigger at the request of my partner, because each new, prehistorically-charged action sequence arrived with seemingly more force than the last. The Q990C's subwoofer adds a dynamic presence to the soundstage even at lower volumes. Pump up that bass level, and you'll be at risk of shaking a picture frame off the wall.
The Q990C isn't a one-trick pony, either. It was especially clear in the dialogue-driven new Netflix documentary MH370: The Plane That Disappeared. It also made music sing, expertly handling a diverse playlist that includes everything from Blues Traveler to Doja Cat. And if for some reason something does sound off, the SmartThings app likely has the setting you're looking for. It has a 7-band equalizer for customizing the bar's sound, plus a few presets like Pop, Jazz, and Classical. There are also options to toggle on/off voice enhancement, bass enhancement, and night mode features.
Finally, the soundbar has adjustable channel levels for everything from the center channel to the rear heights, despite them being relatively hidden in the app. It takes tapping the Settings icon in the upper right-hand corner of the app, selecting "Device Settings," then choosing "Channel Level" in order to access these adjustments. I would have much preferred a direct link to them on the app's home screen, but at least they're in there somewhere.
Competition and comparison
At $1,900, the Q990C is one of the more expensive systems on the market, eclipsing LG's flagship bar, the S95QR 9.1.5 system, by roughly $100 at retail prices.
If you were hoping to save a few bucks, the Klipsch Cinema 1200 routinely goes on sale for around $1,000 and offers similarly cinematic sound with a 12-inch subwoofer that's hard to beat.
Finally, if you don't mind going for last year's model, and especially if you won't be using the wireless connection feature, Samsung's now-discounted Q990B offers a lot of what makes the 990C great, minus upgraded software for 2023.
Conclusion
It's hard not to love Samsung's newest flagship system. It sounds excellent, regardless of what type of content you send its way. It sets up (mostly) seamlessly, is easy to use, and is packed with useful features. If you can live with the annoyances of short power cables and a display for ants, then the Q990C drives a particularly hard bargain to pass up.
If the price doesn't scare you off, the Q990C is well-equipped to stand its ground with the best Dolby Atmos soundbars in production today. If you're invested in the Samsung ecosystem and can foot a hefty bill, it's worth every penny.
The post Samsung HW-Q990C Soundbar Review - Cinematic Spectacle first appeared on HomeTheaterReview and is written by Nick Woodard